by Amy Curran, Oklahoma Executive Director
The United States faces a challenge to fill workforce development gaps as a result of the shift from the industrial age to the knowledge age. The need for a post-secondary degree or certification has become more important than ever. And, with the rising expense of degree programs, it is critical for students to have a clear understanding of their local economies and where skill gaps exist so they can strategically prepare for and secure jobs commensurate with their investments. A deep understanding of community needs and local economics during high-school can better prepare our students for the workforce decisions they will soon need to make.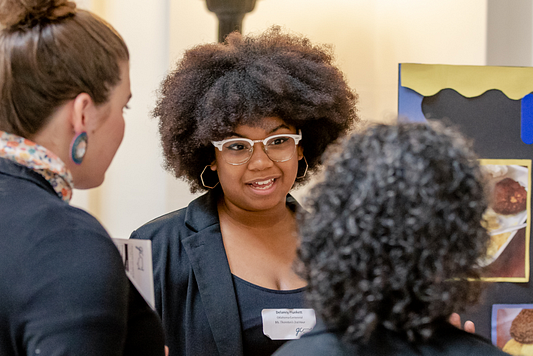 At Generation Citizen, when we talk about the benefits of our Action Civics program, we lead with how it will improve public life and our democracy. Indeed, as we engage students to apply academic subject matter to solve real world problems, we are preparing them for lifelong civic participation and future leadership in their communities.
But the benefits of Action Civics extend beyond the public sector. In the same way Action Civics utilizes relevant issues to ensure deeper learning and higher level thinking in the classroom, it can also shed a light on important and accessible career opportunities for students entering the workforce. Over the course of a semester, students have the opportunity to research the economic impact of the issues they care about.
In Oklahoma, for example, semester after semester, we see students address issues related to the healthcare industry for their action projects. Oklahoma currently ranks 47th in United Health Foundation's annual state health rankings, which takes into account everything from cardiovascular deaths to fresh produce consumption to pollution levels.(1) That's an improvement over previous years, but a steep decline from our ranking in the middle of the pack in the 1990s. In addition to the low health ranking, Oklahoma suffers from a severe shortage of health professionals, with 74 of our 77 counties experiencing primary care shortages (2) and 72 counties experiencing shortages in mental health services.(3) Seniors at Northwest Classen High School addressed the issue of child abuse by advocating for the implementation of mental health checks for the primary parent at the child's three and six month wellness check-ups with referral follow-ups if needed. Eighth graders at Del Crest Middle School continue to work with Representative McEntire to update the required HIV/AIDS curriculum which has remained the same since 1987.
Citizens like these students at Northwest Classen and Del Crest, and others across Oklahoma and our country, who are informed and thoughtful, participate in their communities, are involved in the political process, and possess moral and civic virtues. Civic readiness is critical to cultivating the next generation of leaders. As citizens, it is crucial to be prepared to take a proactive role in our communities. Action Civics can lead the way in workforce development, providing skills, knowledge, and agency for students to obtain a sustainable livelihood by achieving exemplary organizational goals for their employers and creating community investment and stronger relationships between schools and their communities.
United Health Foundation. (2018). Annual Report 2018. Retrieved from: https://assets.americashealthrankings.org/app/uploads/2018ahrannual_020419.pdf
Oklahoma State Department of Health. (2018). "Primary Care Health Professional Shortage Areas". Retrieved from: https://www.ok.gov/health2/documents/HPSA_Primary.pdf
OSU Center for Health Sciences. (2018). "Health Professional Shortage Areas — Mental Health". Retrieved from: https://d3dub9ggvw36f1.cloudfront.net/pdf/okmhhpsa0618.pdf