The text of a Generation Citizen student, Lori Campbell: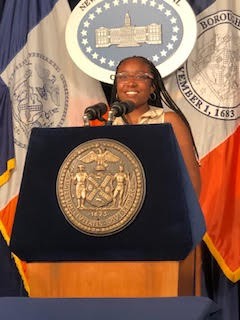 It all started when two NYU students came through the big blue doors at my school, and introduced themselves as "coaches of democracy, change and fellowship." My first thought was "Who are these unfamiliar faces" then my second thought was "What do these people want from us?" and my third thought was expressed through a gesture of confusion and an attitude. I was only a freshman who had been overloaded with school work and classes, and now this! This was exasperating! Well, maybe I was being a little too much of a drama queen, but trust me when I say that it didn't take me too long to know that I was in luck. Me, Lori Campbell, a student from a small underrated school in Brooklyn was about to partake in political action — something that I never saw for myself just years ago. This experience helped start a journey that has pushed me past my comfort zone, connected me to political leaders, keeping me politically active. Now, I identify issues within the various communities I pass, and see them not just as problems, but as problems that need to be solved. Beyond that, I am able to look at ways to solve them. As I continue to look towards my future and my dreams of becoming a doctor, my experiences with Generation Citizen (GC) are helping me think critically about the systemic obstacles in my path and ways that I can address them.
Over the summer, a group of students and I formed a coalition where we discussed our lists of "Solvable problems." These groups were called Community Change Fellowship cohorts, and we met every Friday for half of the summer to gather ideas on societal issues where we addressed how we could implement systemic change. Some people may be worried about their mortgage or the safety of their children, but for us students, one of the most troublesome topics is students loans. Student loans in the houses of many is a very touchy topic that often brings solemn faces and heavy tears. I've yet to incur student loans, but I persistently imagine that I would. From a very young age, I have envisioned myself getting an MD. Along with that, I have envisioned debt. As students of Generation Citizen, we were determined to put ourselves to the test and come up with a solution to this problem.
My group and I understand that political shyness is sometimes fostered in homes, leading to lack of civic engagement and the lack of amplified voices within the youth. Many students around the country lack civic skills, knowledge and disposition to make change within their local government; however this was bound to change for those of us who had GC's Action Civics program. If we GC students are allowed to implement change, such as amending statutes regarding student loans, we could fight to make it easier instead of making higher education for us harder to get. NYU students at 2018's Graduation were told that the tuition Doctors is now free, we wanted to make is free in schools other than NYU. We plan on making a change; however, we needed dedicated influencers and elected officials like senators, or congress members, who could pass laws in legislation to solve a problem like this.
It was our job as students in training, to reach out and grasp the attention of influential political leaders. Therefore we went out, found statistical data to help illuminate our argument to ingratiate an audience of supporters. We successfully brought up the fact that "there are more than 44 millionborrowers who collectively owe $1.5 trillion in student loan debt in the U.S. alone" to the attention of many. With the provision of a personal account to go with our argument of how unnecessarily student loans burden the young, we displayed the story of many.
In our cohort there was this girl who vouched on the behalf of her sister, to explain to us, that her older sister wanted to be a physician but she also wanted to avoid the killer of stress that student loans cause. People who want to get into high velocity specialties shouldn't have to be punished for their willingness to strive for a higher degree in education. Samia explained that, from a young age, her sister wanted to be a person who helps others, a person who could solve health problems through the use of medicine. This dream became a goal and that goal became so unattainable it wasn't worth trying anymore. Although her decision was made way before she saw her supposive bill, the thought of living in misery because she wanted a higher education, was enough to apprehend her dreams of becoming a Physician. Yes 3 zeros are scary, but 4 and 5 are eye widening, jaw droppingly terrifying. She knew, that she would have to drop her dream and come out of med school. The med school tuition was just to much. She wanted to stay in the health field, so she became a Physician assistant instead. It's sad that students have to make a financial decision that impedes their aspirations to get a higher education. While she can still do amazing work as a PA, her dreams, like those of many others, couldn't be supported financially. I am grateful that our work with GC taught me how to advocate for my dreams through political change and specific policy goals. While teens my age worry about where to go next and what next to do with their life, we are out here making sure that our voice speaks on the behalf of not just ourselves, but many others out there.
People who have not incurred debt, don't need to stress about their burdening bills owed to their college that they attended 10 years ago. I shouldn't have to have perturbed doubts of what could be a bright future, because I live in a society that doesn't value my unwavering commitment to become an Emergency Physician. There shouldn't be a premium on higher education, when the effects of that education could benefit the country of which I live. This needs to change now, so my children and their children don't have to deal with random calls from colleges, demanding for their money, money that not everyone has. Effective civics education can help my generation make this a reality.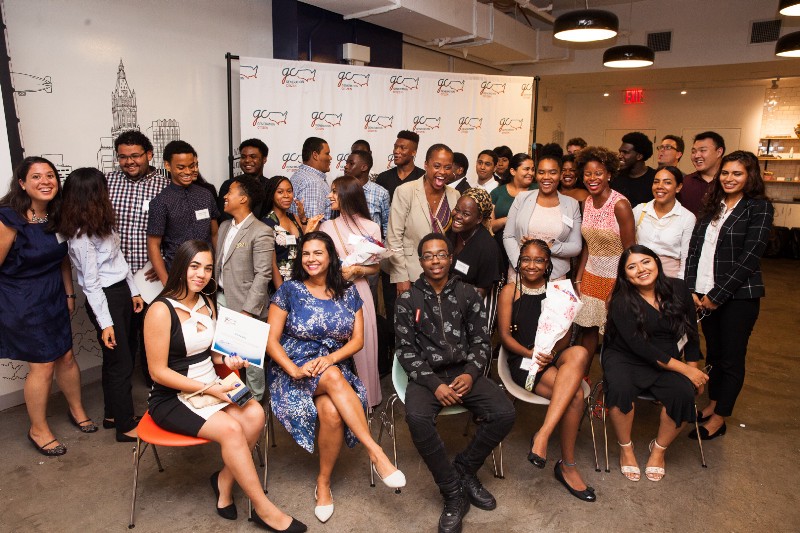 By Lori Campbell, former Generation Citizen student and Community Change Fellow. Lori is currently a Junior at Bedford Academy High School in Brooklyn, NY.
Generation Citizen is a nonpartisan, 501(c)3 tax exempt organization which does not endorse candidates; our goal is to engage our staff, participants, and stakeholders in political and civic action on issues that matter to them personally and in their communities. The opinions expressed in this blog post are those of the writer alone and do not reflect the opinions of Generation Citizen.