Generation Citizen (GC) is excited to welcome Aimee Sprung as the new Chairperson of the Massachusetts Board of Directors.

As Generation Citizen Massachusetts enters a phase of rapid opportunity and growth, we are thrilled for Aimee to lead our local site to help us engage exponentially more young people in Action Civics and support the next generation of civic and political leaders in the Commonwealth.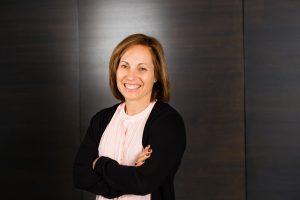 Aimee has been part of the Generation Citizen Massachusetts board since 2015,  and brings a wealth of experience and perspective to the Chairperson role. Aimee  is the Civic Engagement Manager at Microsoft New England. In her role, she works with local partners in US cities to strengthen metropolitan communities and regions and contribute to local opportunities and economic growth.  The work touches on issues such as education and training, innovation and economic development, sustainability, criminal justice, accessibility, and transportation. Aimee has also held roles at Microsoft focused on marketing to Academic (K-12) and US Federal Government audiences.  Aimee serves on the Board of Overseers at the Museum of Science, Generation Citizen, MassTLC Education Foundation and Youth CITIES – organizations leading our community in STEM and civic engagement. Aimee currently resides in Newton, MA with her husband, Eric, and two sons, Alex & Noah.  
Aimee succeeds Ravi Venkataraman after his two years of service as Chairperson. Under Ravi's leadership, GC Massachusetts doubled its budget and grew to serve an additional 2,000 students. We are grateful for his service.
We sat down with Aimee to ask her some questions about stepping in to lead the Massachusetts Board and what she hopes for GC Massachusetts in the years to come.  
What has drawn you to Generation Citizen and its mission since you began your involvement?
As a mom, one of the most important lessons and abilities I can instill in my own children is an understanding of civic engagement, that they have a voice and should feel empowered to drive change in their own community.  I want my kids and all students in Massachusetts to have access to an action civics education so they feel empowered as the next generation of changemakers.
Plus, I love the people who make up the GC community – students, teachers, staff and board.  This community inspires me, holds me accountable and works together to drive change for our community.   
What skills and expertise will you bring to the GC MA Board Chair role?
I will support GC MA with the following skills and expertise:
My network – My role at Microsoft requires me to build and maintain a strong network throughout Boston and Massachusetts.  I have relationships with leaders in public and private sector, non-profit and foundations including leaders in government and public schools.  

Experience in education – For over 10 years, in my role at Microsoft I have advocated to increase access to computer science education across MA and specifically in Boston.  I am aware of the opportunities and challenges of working with schools and teachers in K12.

Marketing and business experience – The new Civics Education legislation presents a fantastic opportunity for GC to scale across the state.  While there are many possible ways to grow GC, we will have to make choices of the most impactful options and try not to do everything at once.  In many ways, we are creating a sustainable business model for GC's growth and future. At the same time, we must respond to the new legislation to make sure school systems are aware of GC and the GC offerings – this will require marketing capacity.  This first 15 years of my career was focused on Marketing tech to public sector audiences. My experience in business and marketing setting goals and building a plan to achieve those goals will be relevant for this work.
What are some thoughts you have about opportunity and areas of focus for Generation Citizen Massachusetts in the coming years?
Sustain and maximize – Each time I attend Civics Day, I am blown away by the students and their work.  I love listening to creative approaches to challenges grown ups have been trying to address for years.  And I especially love to hear the confidence and sense of empowerment that comes through as they share their projects.  In the coming years, I want to make sure we retain and maximize this opportunity for Massachusetts youth to learn about the civic process, grow their confidence and instill this feeling of empowerment.
Scale and operating model – The new civics education legislation in Massachusetts presents an exciting opportunity for Generation Citizen to grow and scale up.  I want the organization to grow thoughtfully in a way that the staff can support new work, especially in communities that are underserved.   
Board growth and diversity – We have an amazing board full of talented professionals who I respect and enjoy collaborating with. To better reflect many of the students GC serves, increasing racial and ethnic diversity on the board is a priority.  There is also an opportunity to connect the Associate Board comprised of young professionals with the Boston board to increase capacity and create a pipeline of future board members. And we have room for a few additions to the board to fill in some areas of expertise such as accounting and law.   
What is your vision for the board in the coming years?
In the coming years, I hope we can begin the effort to make Action Civics and the GC curriculum available across Massachusetts.  To do that, we must sustain the great work we have already seen from GC in our state. At the same time we must establish clear metrics and goals for the next 12-24 months and an operating model that will help us to achieve the goals and we should grow and strengthen the Massachusetts Board, building a pipeline for the future.  I am excited about what GC has ahead and can't wait to see what we can all do together!