On June 13th, 2018, International High School of Health Sciences student Anyhara Garcia, submitted a public testimony to the New York City Education and Youth Services Committees. Here she explains the crucial role Action Civics has in effectively addressing New York City's civic participation problem. Read on!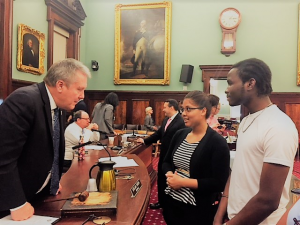 Good afternoon. Thank you for the opportunity to testify at today's hearing. My name is Anyhara Garcia and I am currently a Senior at the International High School for Health Sciences and an incoming freshman at the. The City College of New York. As an alumna of Generation Citizen's Action Civics, I participated in Generation Citizen's Action Civics program during the second semester of my senior year in my high school, which is located in Council Member  Daniel Dromm''s district, District 24.
GC is an education program designed to get civics education back into middle and high school classrooms in an action-oriented way and empower young leaders to exercise their civic duties and participate in civically engaged activities. Throughout the semester-long program, GC partners with schools to implement a twice-weekly Action Civics curriculum during in-class time to educate middle and high school students about how to confront and take effective action to address community issues by engaging directly with politics.
Students start by debating what they would change if they were decision-makers in their school, their city, or their state. Then students build consensus to choose one issue impacting their community to focus on addressing collectively. The students analyze the underlying root cause(s) of the agreed upon the issue and then collaborate to develop and execute an action plan, which may involve lobbying elected officials to advance budgetary, legislative and/or policy solutions, or building a coalition. The program culminates with Civics Day, the end-of-semester student finale where students present their action projects at a science fair-style exhibition event.
After coming to an agreement, the issue that my class decided to focus on is making CUNY tuition free. As immigrants and minorities, we experience many obstacles here in New York City. Many of our classmates suffer the disadvantage of being undocumented. This barrier prevents them from having the chance to apply for federal financial aid. As a result, many are not able to pay for college tuition in either two-year or four-year colleges. It is hurtful to see people's dreams die due to the lack of money. Having in mind that this goal impacts all New York City and that it will take a lot effort, dedication and persuasion, we proceeded on researching the main roots causes of the problem. During an intensive research process, we discovered an organization that is also working to solve this issue and with their help we decided on an action plan.   
We are supporting New York Senate Bill S4749 proposed by Senator Toby Ann Stavisky. This bill makes both CUNY and SUNY free, however, since 2011, it has been stuck in the Higher Education Committee. Regarding this fact, this bill is the first step to a greater change. As a part of our advocacy campaign, we are using social media to attract readers to a blog. The blog has a video with testimonies of people who have a connection to this issue (make-cuny-free-76.webself.net). Furthermore, it also has a copy of the bill and ways to contact your representative(s). This will give people the chance to communicate with their local representative and to let them know how important this matter is to every one of us.  Our goal is to get people to support it so that next year's seniors won't be forced to choose between college and work.
Participating in GC had a profound impact on me and my classmates. As we started this project we didn't know how important it is for everyone to be civically engaged. Over the course of our semester, we started to notice how easy it was to talk with our elected representatives. We were shocked that there are so many community meetings happening around us that we never had knowledge of, including that we could come here to City Hall to testify at public hearings and make our voices heard on issues that matter to us. I was so shocked by that the last time I was here a few weeks ago.
Many of our classmate register to vote and decided to keep working on this project beyond the classroom. We learned about the process of decision-making and how essential our voices are. During the time of the school shooting in Florida, we exercised our First Amendment right and participated in the National Walkout Day on March 24, 2018. This did not just only give motivations to seniors, but it also set an example to juniors, sophomores, and freshman as we saw them joining us during the walkout. All of this was accomplished with the help of our Generation Citizen class, which empowered us to use our voices and to action that will lead to bigger change.        
As the City Council considers ways to foster youth civic engagement, I would say that GC's Action Civics program is a way to get young people involved in civics and it disproves the misconception that you do need to be of a certain age in order to be engaged in politics. Through this program, teenagers are shown that school is not just about learning but also about exercising what you learn.
As I conclude my testimony, I would like you all to keep in mind how important it is to encourage our youth to be civically engaged. I've seen a number of children from various NYC schools, who have so many wonderful ideas on how to help improve their own communities. These are children form the future generation. Let's actually make America better again by educating and encouraging the future generation.   
Thank you all so much for this incredible opportunity to speak to you today. A special thank you to Generation Citizen for allowing me to voice my concerns and sentiments on this matter. Thank you so much to the Council Members and the community for listening to me. And as GC says, "Don't talk about change. Lead it."