4 REASONS WHY YOU SHOULD VOTE IN NEW YORK'S PRIMARY ELECTION
By Bonnie Mills and Nora Howe, Generation Citizen New York Program Associates
Tomorrow, September 13th, New Yorkers will have the opportunity to vote for their State Senator and Assemblymember, all of whom are up for reelection in the state primary election. But why should you show up to vote?
Reason 1: Your Vote Does Make an Impact
We have the power to directly influence government leadership and policy through the act of voting in local elections. Working together, we can improve our communities.
There's a lot at stake in this election – in many districts, winning the primary means winning the general election in November because districts tend to favor one party or another. Not only will these officials be making decisions on fundamental policy issues but they will be charged with overseeing the multitudes of state and city services we receive as residents. Yes, services… services that many Americans take for granted, like safe water to drink, functioning infrastructure, and criminal justice systems. These are all controlled by our state and local elected government officials.
On the state stage, also consider the way these officials will impact the passage or stalling of critical legislation, such as abortion, gun control, and education.
Reason 2: Cumbersome Voting Laws Mean That if You Can Vote You Should
Given the impact local elected officials have on people's daily lives, New Yorkers should be flocking to the polls. But New York State, and New York City in particular, has some of the lowest voter turnout in the country. Check out these stats:
Though our turnout suggests otherwise, there isn't anything particularly "anti-civic" about New Yorkers or our youth. Low turnout, particularly among voters who are young, low-income, and people of color, can be directly linked with New York State's antiquated voting laws.
While those who are eligible to vote must take responsibility for getting to the polls, the government has its own set of responsibilities – namely, making sure that the process of registering to vote and casting a ballot is navigable for all eligible New Yorkers. Our state's current voting laws don't make this process easy. The legislature has failed to pass common-sense reforms like early voting and vote by mail, although 34 other states have already passed these measures.
We've also failed to follow an additional 12 states that have passed same-day-registration laws (see the graph below). These laws make the voting process far more inclusive and have a particularly big impact on low-income communities whose schedules are more rigid due to jobs, caretaking responsibilities, and poverty-related issues like housing instability.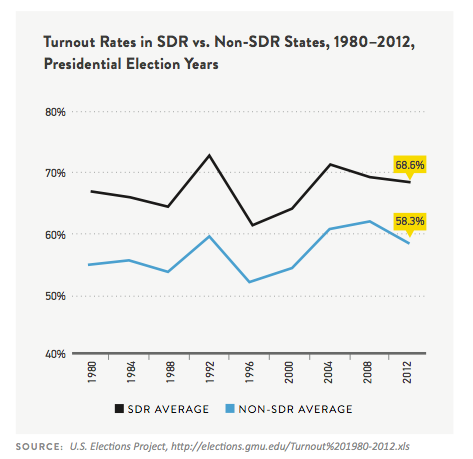 Reason 3: Your Vote Can Bring More New Yorkers to the Table
A government that hears from some, and not all, cannot truly represent all interests. You should vote to be heard by your representatives and to support reforms that make voting easier, so that more voices can be heard.
Our government and our communities also hold responsibility for not only making voting logistics sensible and accessible, but for providing New Yorkers with the tools to understand what's at stake in our elections. Engaging youth in civics is one of the smartest ways to achieve this. By getting people civically engaged and educated early, we are making a long-term investment to equip New Yorkers with the knowledge and skills to participate in civic life including, but not limited to, voting.
The New York City Council has led the way in prioritizing civic education, in part by generously granting Generation Citizen half a million dollars to expand our work in New York City. The funding will allow GC to reach twice the number of middle and high school students and to expand college partnerships to include more CUNY schools. Along with common-sense voting reforms, this type of public investment in civic education exemplifies the work local governments must undertake to ensure a healthy democracy.
So here it is… our final reason why you should show up at your polling place tomorrow:
Reason 4: Tuesday is our Opportunity
Yes… that is right. Tuesday is our opportunity to take a real step at holding our local elected officials accountable for higher-quality services, inclusive voting reforms, and more investment in our civic health. It is also our opportunity to show personal, civic commitment to these critical initiatives.
There is no better way to exercise your voice. It's time to vote!
Generation Citizen is a nonpartisan, 501(c)3 tax exempt organization which does not endorse candidates; our goal is to engage our staff, participants, and stakeholders in political and civic action on issues that matter to them personally and in their communities. The opinions expressed in this blog post are those of the writer alone and do not reflect the opinions of Generation Citizen.