By Scott Warren, CEO
We know it's been a long few days, weeks and months in this country, full of uncertainty, stress, and celebration. We've seen democracy at its best, as individuals have come together to collectively engage in the political process in record numbers. And we've seen democracy at its worst, as some have cast doubt on the electoral process and the legitimacy of election results. A peaceful transition of power is a cornerstone of American democracy. Our young people are watching and as confused and concerned as many of us.
While analysis of the election last week is still forthcoming, young people showed up. Young people made an indisputable difference. CIRCLE, the pre-eminent youth civics education research firm, estimates that approximately 53-56% of young people cast votes in this election, significantly higher than the 45-48% rates in 2016. This forms approximately 17% of the overall electorate. Young people overwhelmingly voted for change, and influenced elections at the local, state and federal level.
We offer our congratulations to President-elect Joe Biden and Vice President-elect Kamala Harris and celebrate their bold vision to restore democracy in the United States. We look forward to working with them to ensure civics education is a part of that path forward in their administration's priorities. We also know that we continue to be a country divided and there needs to be deep healing in an attempt to actually learn once again to engage with our fellow citizens.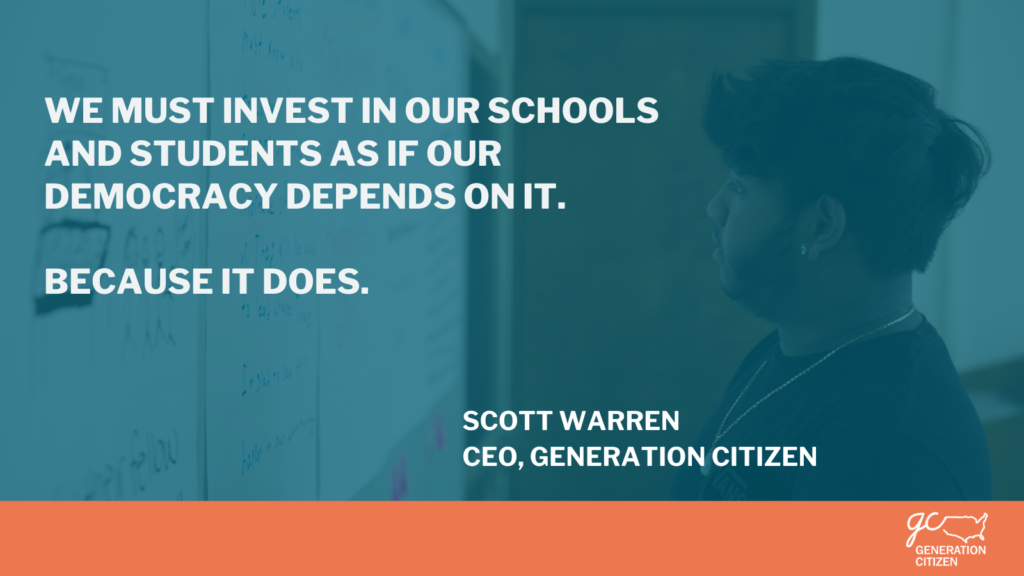 The road forward to heal, and to rebuild our democracy will be a long one, and a necessary one. We have an opportunity to re-imagine schools as beacons of democracy and as foundational long-term solutions to our republic's woes. I wrote in The Hechinger Report this week about the necessity to invest in our schools and students as if our democracy depends on it. Because it does.
We're all in the fight for a better, more equitable, and just democracy. And we need to build a better tomorrow where young people grow up in a nation that recognizes the benefits of both understanding and participating in their democracy. We value and appreciate all of the work you do everyday towards our collective future and we look forward to continuing to work with you in the days, months, and years to come.