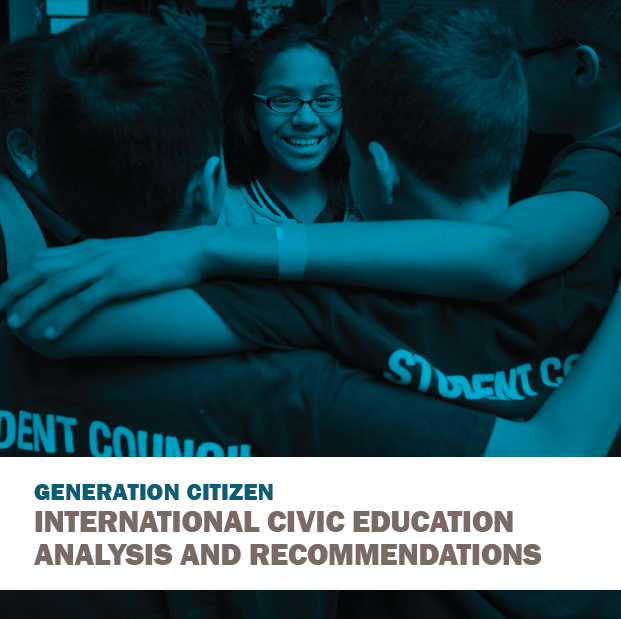 To date, Generation Citizen's work to empower young people to be active and effective citizens has been completely domestic focused. Our founding story, though, starts internationally – our co-founder Scott Warren was inspired by the power of individual participation in emerging democracies such as Kenya and Ecuador, using lessons from those countries to help inform Generation Citizen's founding.
To that end, this summer, with the help of Education Pioneer Fellow Meril Antony, we conducted research to determine best practices in educating young people to be active and informed citizens through civics education abroad.
The result is a white paper we are releasing today: International Civic Education Analysis and Recommendations. The paper marks an effort to identify if there is a growing consensus amongst the emerging democracies to build a representative system with citizens in a prominent role.
The paper included interviews of key people and organizations from 37 civil society/non-profit organizations, predominantly in Africa and Latin America, and showcased the importance of letting citizens be active drivers of change.
Civic education has taken many different conceptual definitions in various countries. Common themes attached to civic education are political knowledge, civic attitude, community participation and service learning. Nevertheless, all these different themes contribute to the advancement of Experiential Civic Education, or action civics, as we call it at Generation Citizen.
Various studies have demonstrated that a combination of curriculum training and practical training, especially through third party groups such as non-profit organizations and advocacy groups, have helped create a more effective change in the society, within a short duration, to be more politically engaged. Correspondingly, research also showed that programs for preparing future citizens must be sensitive to the role of local circumstances and multiple civic identities as they seek to foster the understanding and attitudes necessary for effective civic participation.
Understanding these findings helped us to better understand how organizations should work to educate active citizens in emerging democracies. This analysis aimed to understand organizational positions on the following core ideas: current government receptiveness, organization's focus area, existing program focus area, target audience and how GC could further their work.
We hope that this paper furthers an understanding of best practices in international contexts to improve experiential based civics education. We also aim to use these findings to improve our work domestically as we assess whether there is any possibility of GC helping audiences internationally with this important work.