Lowell High School brought together 450 students on Wednesday, September 28th to launch Generation Citizen at their school.
This year, these 23 classrooms will work to make meaningful change in their communities through the Generation Citizen program.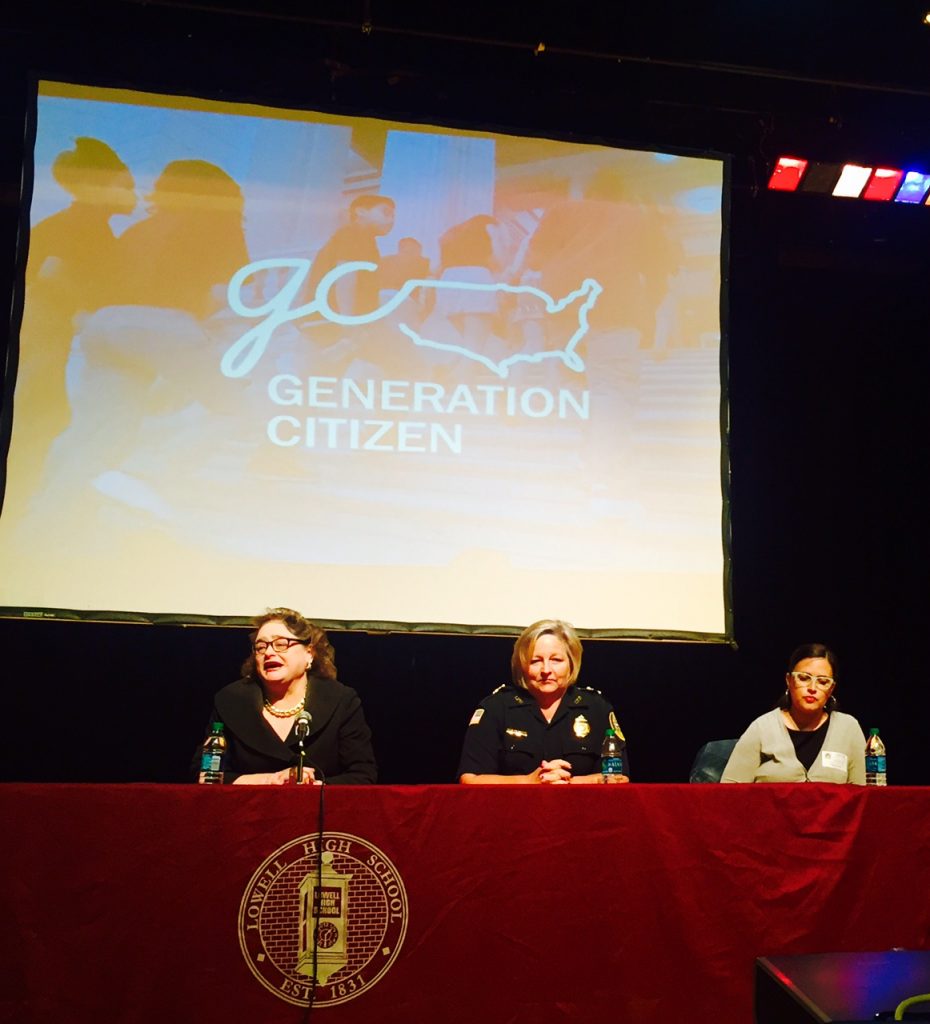 The Lowell High School launch event, held at the school located in Lowell Massachusetts,  kicked-off with an exploration into the Action Civics process and the ways in which youth can be actors in the political process. Students were exposed to some alarming statistics about youth political engagement including the low voter turnout rate and high civic knowledge gap among young people in the country. They were charged with the task of helping change these numbers for the better.
Perhaps the most empowering part of the event was when civic leaders from local community organizations, including government agencies, the business sector and nonprofit sector, spoke passionately about the issues they are working to address in the community and how they hoped students could work with them to devise solutions.
The students were inspired to hear that all panelists were Lowell High School (LHS) alumni and had chosen to stay in the Lowell community and commit to a life of civic leadership.
Deborah Friedl, the Assistant Superintendent for the Lowell Police Department said, "I think the most serious issue that is affecting the city of Lowell that is certainly not just from a police perspective but from the entire community is the opioid crisis. We are seeing people 19 or 20 years old dying at a rapid rate from opioid overdoses and we know from their story that they started using these drugs as teenagers." Issues like the opioid crisis and others caught students' attention as possible directions or their Generation Citizen project.
It was clear that the panelists were eager to hear students' voices and bring in youth as decision makers for their community.
The event closed with four students form LHS who had participated in Generation Citizen the previous year offering their thoughts about Generation Citizen and advice about how to most effectively make change. One student said, "GC is an opportunity to make a transformation in the community around you and gain a better understanding of the political system that, you know… controls everything." These students discussed how they gained valuable leadership skills and a sense of civic responsibility that they plan to take into adulthood.
All in all, the day offered students a glimpse into what is to come as they begin their journey into political advocacy.
Hearing from actual community members and fellow students sparked their belief that there are people eager to listen to their ideas and that there is no age restriction on who can be the civic leaders in their community.