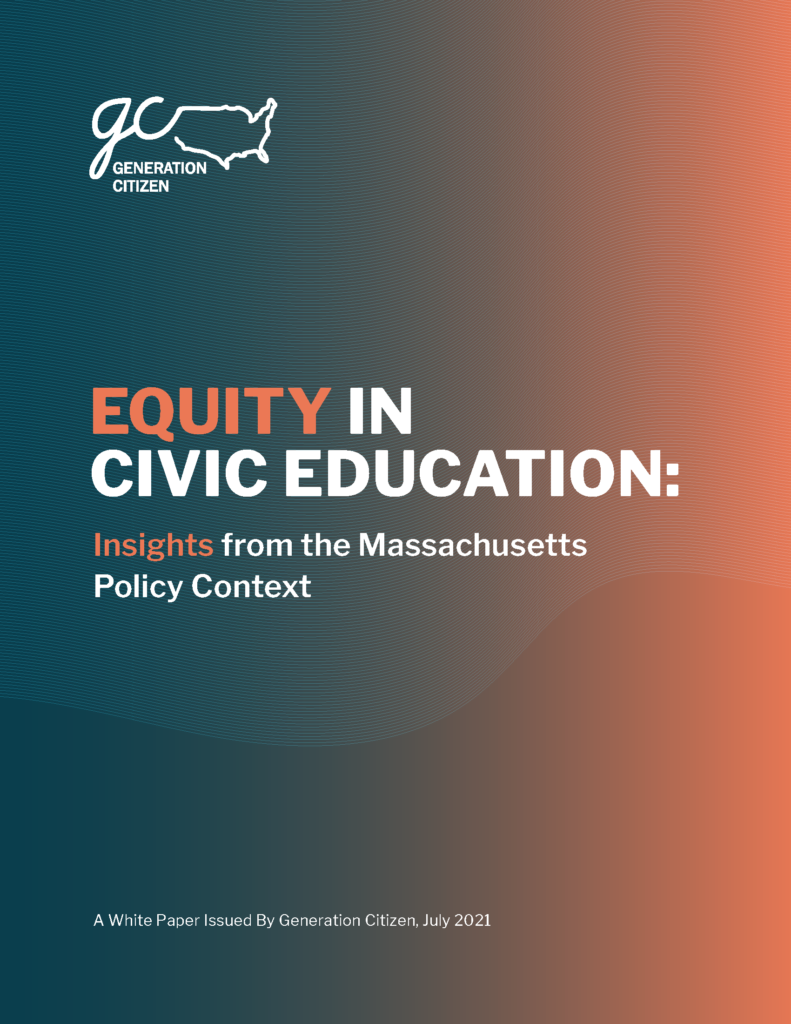 Today marks the release of Generation Citizen's latest white paper, Equity in Civic Education: Insights from the Massachusetts Policy Context. The paper frames the process of stewarding an inclusive civic learning ecosystem in three distinct, interrelated phases: 1) coalition formation and engagement; 2) policy development and passage, and 3) policy implementation. Additionally, it offers an in-depth review of best practices and key areas where challenges occurred and lessons were drawn, with the aim of providing transferable insights for burgeoning and longstanding civics education coalitions seeking to prioritize equity in their respective state contexts.
Massachusetts' landmark 2018 legislation, S. 2631, An Act to Promote and Enhance Civic Engagement, is the core of the paper's policy and coalitional focus. To provide context for the bill's passage and ensuing policy implementation, advocacy efforts dating back to 2010 are highlighted, alongside the indispensable, collaborative work of the Massachusetts Civic Learning Coalition. The innovative role of in-state higher education
institutions also receives close consideration, underscoring the importance of K-16 collaboration within the field to provide a comprehensive democracy education to all students, particularly those who have historically been furthest from access to high-quality, culturally relevant instruction.
Diverse, statewide coalitions of civic education groups, youth-oriented organizations, school administrators, elected officials and staff, teachers, and students are necessary to steward civics education policy for better organization, effectiveness, and accountability. To complement that process, coalitions must also build shared understanding on guiding beliefs, goals, and methods, including consensus about how to define equity in civics education. Synthesizing research and practitioner perspectives, the paper centers access, quality, and democratic school culture in its vision of equitable civic education. Through the eyes of the Massachusetts Civic Learning Coalition, readers will hopefully develop – or, further develop – a glimpse of successes and drawbacks, areas of strengths as well as areas for continual improvement.

The following quote, below, captures the arc of the paper and the urgency of providing an comprehensive, equitable civics education to all students:
"This work is challenging. We are often reminded why we do this work when we listen to students and teachers who share the impact their civics class had on them. From a shy student finding their voice and becoming a leader, to a teacher who witnesses their students engage with civics content more than ever before, to students who realize they can make an impact on their community and the world, we are grounded and sustained by remembering how civics education strengthens classrooms, communities, and our democracy."