Expert Insight in the Classroom:
A Q&A with John Wesley, a Rhode Island policy expert who speaks with GC classes working to address domestic violence
By Molly Cohen
In order to get current, local information about the problem they want to tackle, all GC classes interview community experts. We're grateful to the elected officials, community members, and organizations that take time to meet with GC students and discuss ongoing civic efforts to make change!
In Rhode Island, multiple classes have reached out to the Rhode Island Coalition Against Domestic Violence to learn more about policy solutions that have been proposed within the state. We asked RICADV Policy Director John Wesley to share his thoughts on the connection between the advocacy work of his organization and the civic education students receive in GC:
How have you been involved with Generation Citizen classes?
I have spoken to two GC classes, one at Nathanael Greene Middle School and one at Roger Williams Middle School, about domestic violence and teen dating violence prevention and policy/legislative advocacy.
What role do you see young people playing in the mission of your organization?
We love having young people help us in achieving our mission of ending domestic violence in Rhode Island. Young people can be incredibly effective in advocating to prevent teen dating violence and actively intervening to stop gender-based violence in their schools and communities. They can also help us advocate for change at the State level in supporting legislation that will prevent the root causes of domestic violence, such as poverty, by pushing for bills that support economic justice. An example of such legislation is this year's bill to guarantee earned sick and safety leave for all Rhode Island workers, including time to address issues related to domestic violence or to take care of a sick child or family member.
How do you balance direct service and policy work? Why is it important for people who care about issues like domestic violence to engage in advocacy as well as volunteer?
In addition to the vital work that our member agencies across Rhode Island do every day to help victims of domestic violence, it is crucial that we engage in policy and systems-change advocacy to keep up the effort to end domestic and teen dating violence. The laws and systems that help prevent family violence always need improvement and people should get engaged by reaching out to their elected officials to let them know they care about protecting survivors of violence and ensuring that future violence is prevented. Going to public hearings at the State House to make your voice heard or writing letters or emails to your elected Representatives and Senators is an important way to stay involved in our local democracy, to keep it healthy and keep our elected leaders working for the causes we believe in.
Generation Citizen works to teach students about government by helping them engage with it directly. How does action civics education align with your work?
The goal of getting young people involved in action civics that Generation Citizen promotes is very important. Young people should get involved because their government and policy-makers work for them and will listen to them if they just speak up on issues that matter most. Democracy only functions if everyone participates and exercises their power to become informed, vote and influence policy for a better society. If we want to create change in our society, legislation can have the widest-reaching, longest-lasting impact. Getting involved at the policy level is a way for students to make a huge difference today and for the future.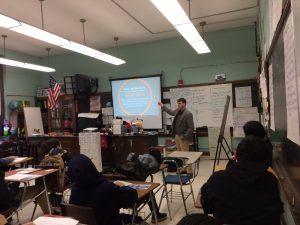 Generation Citizen is a nonpartisan, 501(c)3 tax exempt organization which does not endorse candidates; our goal is to engage our staff, participants, and stakeholders in political and civic action on issues that matter to them personally and in their communities. The opinions expressed in this blog post are those of the writer alone and do not reflect the opinions of Generation Citizen.