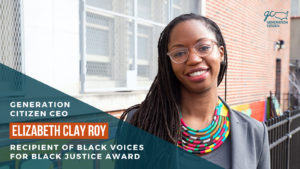 The Black Voices for Black Justice Fund recently announced that Elizabeth Clay Roy, Generation Citizen CEO, has received the organization's leadership award, which supports Black leaders advancing racial justice.  
Elizabeth is being recognized for lifelong leadership and commitment to civic engagement and social change initiatives. Now CEO of Generation Citizen, Elizabeth is committed to building a more inclusive, multi-racial democratic future, starting with our nation's young people. Through Generation Citizen's community-based civics education programming in middle and high schools, students realize the power of their own voices within communities, develop a rich understanding of how government works, and foster a greater sense of belonging in their communities. Funds from this award will directly support GC's work around equity, inclusion, and belonging in civics education to build civic power and agency amongst the diverse rising generation.
"I'm deeply honored to accept this award on behalf of the students, teachers, and colleagues seeking to make the promise of democracy real through civics education and community participation," Elizabeth shared. "From Harlem and Roxbury to Oklahoma City and Oakland, students are stepping into their power as agents of change, as we want every student to have that opportunity. I am thrilled to be selected alongside my fellow awardees and to support their work to advance racial justice in their respective sectors. The work for equity is in every facet of life, and this award recognizes our interdependent efforts in education, democracy, health, the economy, and the environment." 
Elizabeth Clay Roy has spent her life seeking to advance community-based social change. A collaborative leader, she is a Civic Learning Pillar Co-Chair at the Partnership for American Democracy, a New Pluralists Field Builder and the Coalition Chair for 50×2026.  Prior to joining Generation Citizen, Elizabeth held leadership roles at TakeRoot Justice, Phipps Neighborhoods and South Bronx Rising Together in New York City.  Elizabeth is from Boston, MA, and served in the administration of Governor Deval Patrick as the Director of Grassroots Governance.
The Black Voices for Black Justice Fund was established to amplify clarion voices about racial justice, connect new and established Black leaders to one another, and support Black-led efforts to build meaningful economic and political power for their communities in the context of police brutality and the disproportionate impact of the pandemic along racial lines, including disparities in access to healthcare, jobs, education, justice, and the right to vote.