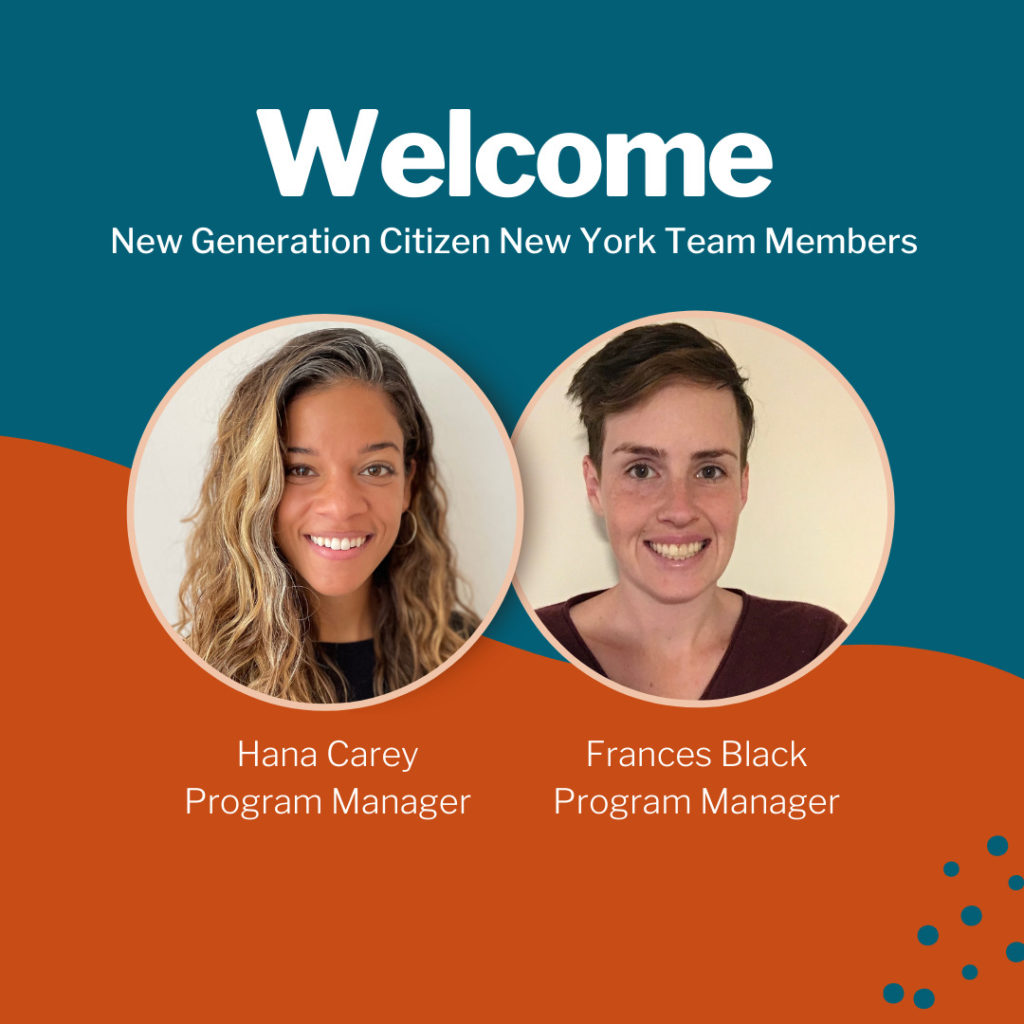 Earlier this month, GC welcomed two new team members: Frances Black and Hana Carey, who both joined our GC New York team as Program Manager. We are thrilled to have them on our team and see how their expertise in classroom education supports the development and growth of our New York program. Learn more about them in their answers to our getting-to-know-you questions below:
Tell us more about your background and how you arrived at this point in your career.
Frances: My background is actually in Middle Eastern Languages and Mathematics. I focused on Turkish, Persian, and Algebraic Geometry in college and I consider them all languages and new ways of thinking. I've spent the last six years working abroad, trying to advocate for girls' education, critical thinking, and good math practices. My time as an educator has been in an incredibly rote system, one that asks students to be cogs and not changemakers.  I didn't want to stay in that lane, but wanted to really help support students in their journey to become full members of society. Thus, the pivot to GC.
Hana: I started my career as a social studies teacher and that is where I first found my passion for education and youth development. After being in the classroom for five years, I moved on to do educational programming at a journalism non-profit before returning to schools as an administrator. I've been lucky enough to work with young people throughout my career and have been blown away by their empathy and energy. Generation Citizen recognizes the strength of young people and helps to empower them to speak up for themselves and their communities. I am just thrilled to be a part of this work.
What does Action Civics mean to you?
Hana: To me, Action Civics is about being a thoughtful participant within your community. Rather than just learning about the political system, it pushes students to engage more deeply with civics and understand how they can make a difference and be heard.
What is a challenge that you see in this work right now that you're excited to tackle?
Frances: I'm really interested in the challenge of making Action Civics for everyone. I believe that we all have issues that we passionately want to work on and all deserve the full tools of our democracy. There is no person who wouldn't benefit from it, so I want to make sure that everyone feels that.  Action Civics is not just for certain people or certain causes; we all deserve better say in our communities.
If you could have dinner with anyone, living or dead, who would it be and why?
Frances: Frances Perkins. Not only because she was the first female cabinet secretary, but also because I am indirectly named after her. (Baby in Dirty Dancing has a given name of Frances after Frances Perkins and I'm named after Dirty Dancing)
What is the best piece of advice you have received?
Frances: I actually read this in Hillary Rodham Clinton's book What Happened and it really resonated with me. All criticism can be taken either seriously or personally, but not both.
Hana: Some of the best advice I have received is to hold space for complex thought and accept that there can be multiple truths. It is easy to approach many things in life as binary, but life is not that simple. This advice has made me a better listener and lead to much more productive conversations with others—especially when we disagree.
Have you read any excellent books or articles lately?
Frances: So I read way too much YA or bad romance books as a general rule, however! I did just finish Into the Silence which is about the failed Mallory summit of Everest. While I am far too interested in Everest, Antarctic, and Arctic exploration as a general rule, this book also sets the Mallory summit attempt into the context of WWI and it was a super fascinating read.
Hana: I recently read Real Life by Brandon Taylor and really loved it. He wrote an article last year called "Working In Science Was A Brutal Education. That's Why I Left." and this book touches on a lot of the themes from that piece. It is a really subtle, nuanced story, and I couldn't put it down.
Can you describe what a typical (but good!) weekend day would look like for you?
Hana: I absolutely love breakfast food, so a good weekend day has to start with blueberry pancakes. From there, I just want to spend as much time outside as possible. I recently moved to Brooklyn, so I've really enjoyed exploring Prospect Park. It's pretty simple but, for me, you can't go wrong with pancakes and some fresh air.