Understanding the keys and barriers to the development of youth as civic actors.

At Generation Citizen, we envision an equitable democracy in which every person has equal representation and is capable of forceful articulation and advocacy in public. It is our mission to achieve this vision by preparing youth, and particularly those from historically underserved communities, for lifelong civic participation. We primarily do this by ensuring, through program and policy, that every student in the country receives an Action Civics education. However, we recognize that young people experience a variety of influences – including and beyond civics class – that support their growth and development into civic actors. 

To better understand those influences, we engaged in a comprehensive research project to more holistically map and support the whole ecosystem that shapes youth from traditionally underserved communities as civic actors. This research informed a set of critical insights and recommendations that we're excited to share with a wide group of stakeholders – including educators, policymakers, community-based organizations, and those working in schools – to consider as they develop and improve their programs and policies and ultimately advance youth civic engagement.

The project has produced two key outputs which include a set of insights and recommendations that can be considered by a wide group of stakeholders – within and outside of the traditional civics field – as they develop and improve programs and policies to advance youth civic engagement,
"360 Civic Learning: A Toolkit for supporting youth civic engagement in underserved communities"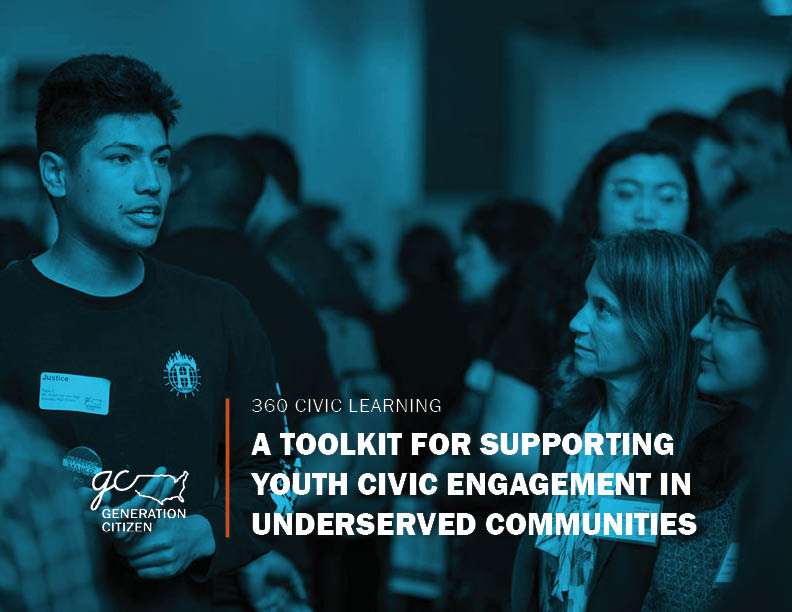 The toolkit is intended to provide all  influencers – especially, but not only, schools, community organizations, after school programs, religious and cultural institutions, and policymakers, – with practical guidelines for engaging with youth from historically underserved communities in order to effectively  support their civic development. These guidelines and ideas have been generated alongside young people from traditionally underserved communities, and are intended to help each of us think beyond our siloed efforts to have a more holistic approach to cultivating young people as civic leaders. The toolkit is comprised of four primary components:
Civic Building Blocks
Research Insights
Design Principles
Influencer "How to" guides
The Toolkit was developed through an innovative design research process which included initial interviews with 24 young people from historically marginalized communities, a workshop to refine insights and develop ideas to support youth civic engagement with leaders of over a dozen youth serving organizations, and co-creation sessions with an additional set of youth to validate and develop new ideas for supporting youth civic development.

Check out our graphic overview , outlining the toolkit's key components.

"360 Civic Learning: A study of the practices that cultivate civic engagement among youth from underserved communities"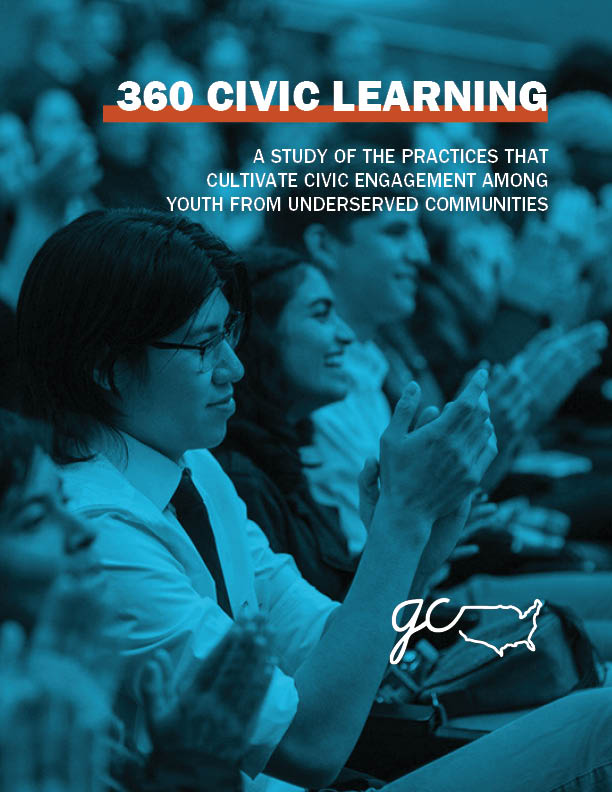 The report is a comprehensive literature review examining the current activities and practices in communities that effectively drive civic engagement among young people from historically underserved communities. Our findings highlight six Effective Qualities that were identified as best practices.