I have the privilege of working with middle and high school students across the state of Oklahoma. As a civics educator, I find myself constantly noticing where young people show up. During the build-up to the 2018 midterm election, I saw students where I always do — at the mall, in their schools, at athletic events, on their phones. But, I also saw them at school board and city council meetings, campaign headquarters, attending debates, phone banking, knocking doors, and writing editorials. Yes, even here in Oklahoma, where we have tendencies to infantilize our young people, our students are engaged in meaningful ways.
Nationally, youth turnout for the 2018 midterm was up an impressive 10 points from the 2014 election. And Oklahoma led the nation with an increase of 17.9%! We know this is due in part to the activities students, across the state, have participated in since 2016. Students who participate in offline civic engagement are 21% more likely to vote.
Young voter turnout in Oklahoma is particularly notable because it debunks the myth that young votes translate entirely into Democratic votes. Historically, young voters reflect their parents, and it certainly clear than young Oklahomans continue to reflect the overall breakdown of registered voters in the state. While Democrats make up a larger portion of young voter nationally, the same simply isn't true in Oklahoma.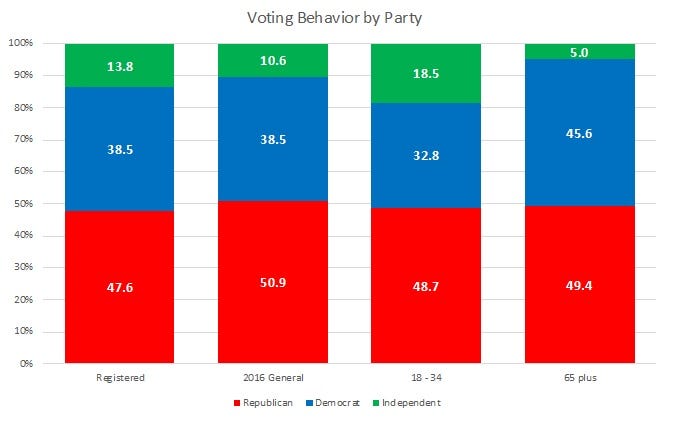 While young Oklahoma voters are not trending left as they are in other parts of the country, they are turning out and engaging with the same motivation as their liberal peers: they want to improve their communities. Young voters in Oklahoma are solutions-oriented, they are interested in issues that affect them and those they love. They are looking for candidates who take them seriously and are eager to collaborate. Young voters take to heart "All politics is local". Our students want to feel like they are getting a quality education and have opportunities to contribute to their community and leave a legacy.
Civics for all is a non-partisan approach to strengthen our democracy.
Generation Citizen embraces youth at the forefront of change. We know the next generation will both inherit the democracy we leave and will need skills and knowledge to build the future they desire.