Democracy Coach, April Snape, Shares Her Howard University Experience with Generation Citizen Students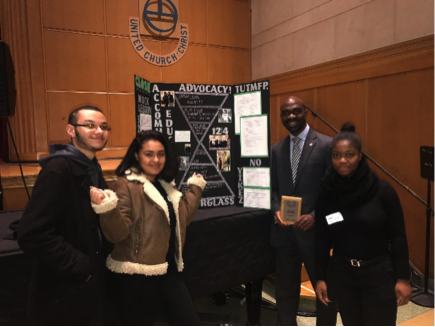 Serving as a Generation Citizen Democracy Coach, from the Hunter College Chapter, in the fall of 2017 gave me the platform and voice to not only help students learn the importance of being civically engaged, but to aid them in becoming college-ready. Although I was a very bright and promising student, my high-school to college transition was extremely challenging. In my students, I saw a direct reflection of who I was just 4 years ago, as a high school senior.
Like myself, many of them are amongst the first in their families to consider a higher education and I wanted to ensure that their transition was easier and that they had more information than I did.
By exposing Generation Citizen program participants from Bronx School for Law, Government and Justice to my former school, Howard University, I wanted them to know that college is within their reach and that I am a testament that you can make it there and beyond regardless of your family history. At Howard, I teamed up with my former classmate to compose a panel where current students at the University explained the challenges that they encountered during their high school to college transition and at Howard. I also scheduled one-on-one meetings with an admissions counselor to talk about their application.
By bridging this gap, I helped my GC students to redefine the status quo all while learning how to be civically engaged. Thankfully, Generation Citizen gave me the platform to help build a new narrative.
I want people to know that being a Democracy Coach is so much more than teaching a lesson, it's about actively changing the atmosphere of each school that you walk into. I never want any student that I encounter to have doubts about their abilities to apply, attend and succeed in a college environment. I also want students to know that being civically and politically engaged is not as frightening as people make it seem. Thankfully, Generation Citizen gave me the opportunity to convey this message.
– April Snape
---
Generation Citizen is a nonpartisan, 501(c)3 tax exempt organization which does not endorse candidates; our goal is to engage our staff, participants, and stakeholders in political and civic action on issues that matter to them personally and in their communities. The opinions expressed in this blog post are those of the writer alone and do not reflect the opinions of Generation Citizen.