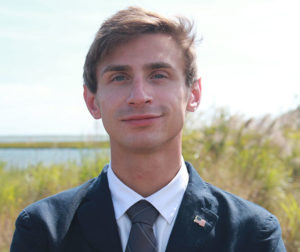 Generation Citizen alumnus and former NYU Chapter lead John De Vito is running for office as the Democratic Candidate for the New York State Senate's 3rd District. At 25 years old, John is an advocate for getting young people involved in the Democratic process at a local and national level. During his time at NYU, John served as a Democracy Coach in an 8th grade classroom at the Mott Hall School in Harlem. There, he empowered his students to organize and execute a "Sustainable Living Curriculum" that those students taught to their 6th grade peers and presented to their Assembly Member.
John credits his decision to run, in part, to his experience with Generation Citizen. He believes that millennials deserve a voice in the future of New York. "Decisions about our future are being made in Albany and we need young people to be a part of the conversation. Young people power our campaign. They have the energy, ideas and optimism that help amplify our message."
John is running on an anti-corruption platform and is fighting for campaign finance reform in New York State. "We need to break the pact between special interests and our government. After we succeed, we have a few more demands".
Prior to running for office, John worked as a progressive organizer, traveling across the country to fight for economic opportunity and a sustainable environment. Committed to justice, John studied law at George Washington University. He served in the Enforcement Division of the Securities and Exchange Commission and with the Special Victim's Bureau at the Nassau County District Attorney's Office.
If John wins in 2016, he will be the youngest serving New York State Senator in history.
Generation Citizen is a nonpartisan, 501(c)3 tax exempt organization which does not endorse candidates; our goal is to engage our staff, participants, and stakeholders in political and civic action on issues that matter to them personally and in their communities. The opinions expressed in this blog post are those of the writer alone and do not reflect the opinions of Generation Citizen.