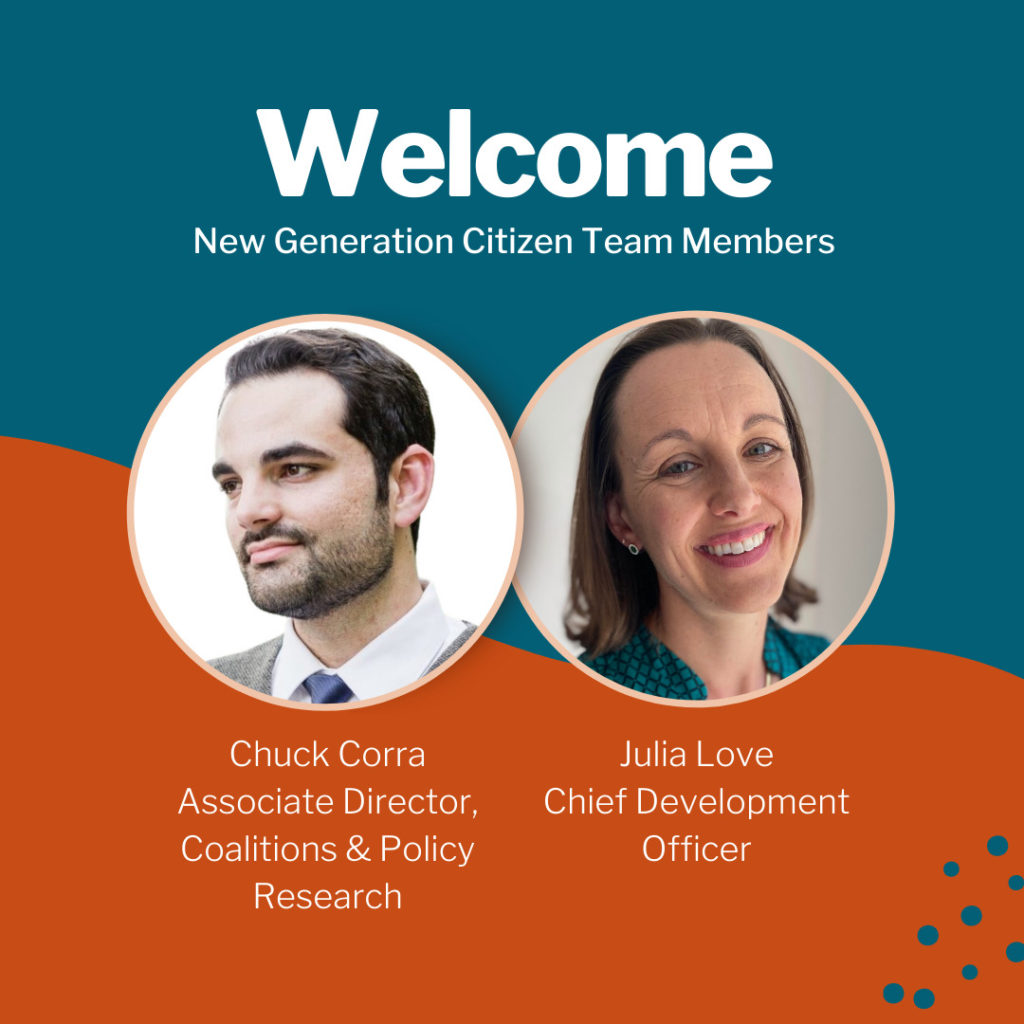 In September, GC welcomed two new team members: Julia Love joined us as  Chief Development Officer, and Chuck Corra joined us as Associate Director of Coalitions and Policy Research. We are energized to have them join our team, and have already been inspired by their thoughtfulness and invaluable experience. Learn more about them in their answers to our getting-to-know-you questions below:
Tell us about your new role and your vision for the role.
Julia: I lead fundraising and communications efforts at Generation Citizen, mobilizing resources of time, treasure, and talent to further GC's mission and amplify our message. I'm really excited about this opportunity to help further GC's long-term, organizational strength and to grow our base of support at this critical inflection point for the organization and important time in our nation's history and for our nation's youth. Investing in civics education is all the more vital in this era as we work to build a more equitable and just democracy together.
Chuck: I recently joined GC's incredible policy and advocacy team as the newest (and first!) Associate Director of Coalitions & Policy Research. In this role, I will be intimately involved in managing and building GC's various national and regional coalition partnerships as well as taking lead on broad-based policy research that will support our overall goals and initiatives.
My vision is to empower the voices that matter most in the civics policy arena and providing insight into how we can best advocate for and promote the important values GC stands for
Tell us more about your background and how you arrived at this point in your career.
Julia: I started my career as a Fulbright scholar in Bolivia, where I made a documentary film about women civic leaders. It was a time of great social change in Bolivia and I had the opportunity to witness firsthand a powerful social movement to elect the country's first indigenous leader. Then I moved to New York City where I worked in fundraising, philanthropic advising, and communications for several different non-profits focused on educational equity, college and career readiness, and leadership development in the U.S. and globally. I also had the honor of serving on the advisory board of an incredible girls' school in Brooklyn. Most recently, I led the individual giving portfolio and team at Teach For All, where I helped to grow a global constituency of philanthropists to advance educational equity for all children.
Last year, I became involved in a local school board campaign in my community and was looking for ways that I could further contribute at a local and national level. As I reflected on the next chapter in my career, I was reminded of a student I once met who shared, "Students are not just the leaders of tomorrow, we're the leaders of today." I was very inspired to learn about Generation Citizen's work in classrooms, communities, and at the policy level and I'm thrilled to join the team.
Chuck: I am a native Appalachian from the great state of West Virginia. After finishing law school and deciding not to be a lawyer (a common pathway it turns out), I moved to Nashville, TN and worked on advocacy campaigns for a boutique public affairs on issues ranging from DACA to flood insurance reform policy. I later moved to the D.C. Metro Area for a research advisory services company to help build a policy research team. I found myself longing to be back in the advocacy arena, so Generation Citizen was a perfect fit that combined my skills of advocacy and research.
What does Action Civics mean to you?
Julia: Action civics is an effective approach to teaching civics through culturally responsive, project-based learning. It's a way for students to connect historical and current realities to their own lived experiences and issues affecting their schools and communities, supporting them to become involved and engaged participants in their communities and government. It's a powerful and exciting way to inspire the next generation of civic leaders.
Chuck: Action civics helps students understand and take an interest in civics education. Civics education shouldn't just be to check a box for graduation, but should help students understand how democracy truly works. I believe action civics, at its core, allows students to truly understand and value their constitutional rights while also sparking an interest in how government works beyond what they can learn from a book.
What is a challenge that you see in this work right now that you're excited to tackle?
Julia: Action civics has recently become a topic of great discussion and debate in the statewide and national conversation, with a number of states limiting ways in which these subjects are taught. While this is a challenging time, it's also a moment where our work at Generation Citizen is all the more urgent and important. We are working to demonstrate that Action Civics is critical for all students across diverse political representation and it's a valuable way to ensure that all students feel a sense of belonging in our democracy.
I'm excited to further our storytelling and communications initiatives to amplify our message. Generation Citizen's work has had great impact at the classroom, community and policy levels over the past decade and this is an important opportunity to further our work and reach new audiences.
Chuck: I think there are a lot of misconceptions about action civics as a whole and how it's being used as a political weapon. I'm excited to work with my team to highlight important voices advocating for this cause and get beyond the noise so that we can achieve real progress in civics education policy.
What is something new you learned in the last few weeks?
Julia: I've learned a great deal about Generation Citizen's work and have been very inspired by students' Action Civics projects. I loved this essay in The Forge, "Advocacy Within the School House" co-written by my colleague, Khin Mai Aung, GC's NY Executive Director. It's also been a pleasure to connect with and learn from many colleagues across the organization.
Chuck: How much interest and energy there is for action civics in all different parts of the country!
If you could have dinner with anyone, living or dead, who would it be and why?
Julia: I had a special bond with my grandmothers and would love to have dinner with them and my two daughters. My paternal grandmother had the most wonderful laugh and she was always helping everyone she could – she was an active volunteer at our local Jewish Community Center well into her 80s. My maternal grandmother became an award-winning poet later in life, was an ardent pacifist, and raised six children. They would have loved seeing how my daughters have grown and the people they have become and I would love for my daughters to get to know my grandmothers' personally and their histories firsthand.
Chuck: John Brown, the American abolitionist who led the raid on Harper's Ferry. John Brown is a fascinating person from American history that many people (who didn't grow up in West Virginia) know very little about. I would want to talk with him about the events and situations in his life that influenced him to dedicate his life to ending slavery.
What is the best piece of advice you have received?
Julia: The only constant is change. Especially in this era, there are so many inspiring examples of leaders, individuals, and organizations pivoting and responding to emerging needs and priorities. As we look ahead to the challenges we face as a nation and globally – from the pandemic, to the deep polarization in our country, to climate change, and more – it's all the more important to embrace a learning mindset and seek out new opportunities and experiences for learning, leadership, and development, both individually and collectively. GC's core value of open mindedness definitely resonates with me.
Chuck: Focus on understanding "why", not just "what."
Have you read any excellent books or articles lately?
Julia: I recently finished and highly recommend Heather McGhee's book, The Sum of Us: What Racism Costs Everyone and How We Can Prosper Together. She provides a thought-provoking and thoroughly researched analysis of the costs of racism and the gains that are possible when people do come together. I was also inspired by Brave Now, a book by my friend and former colleague, Radha Ruparell, about her experience suffering from COVID-19. She wrote a powerful testimony of bravery and resilience, offering practical lessons on living with more intentionality and purpose.
Chuck: "She Come by it Natural: Dolly Parton and the Women Who Lived Her Songs" by Sarah Smarsh. Dolly Parton is an Appalachian icon and Sarah Smarsh is an incredible writer – those two things alone make it worth the read.
Can you describe what a typical (but good!) weekend day would look like for you?
Julia: I like to sleep in and then read the newspaper or a good article while I have my coffee. I love going with my daughters to explore the tide pools in my favorite park in our town or going hiking as a family. I especially love hiking in New York's Hudson Valley in the fall, as the views are incredible and the foliage is beautiful. I also enjoy seeing family friends in our town — it's been a gift over the past year to have our 'pod' and enjoy time together.
Chuck: Driving the backroads with my wife Kristen and our coonhound Heidi until we find a great hiking spot.