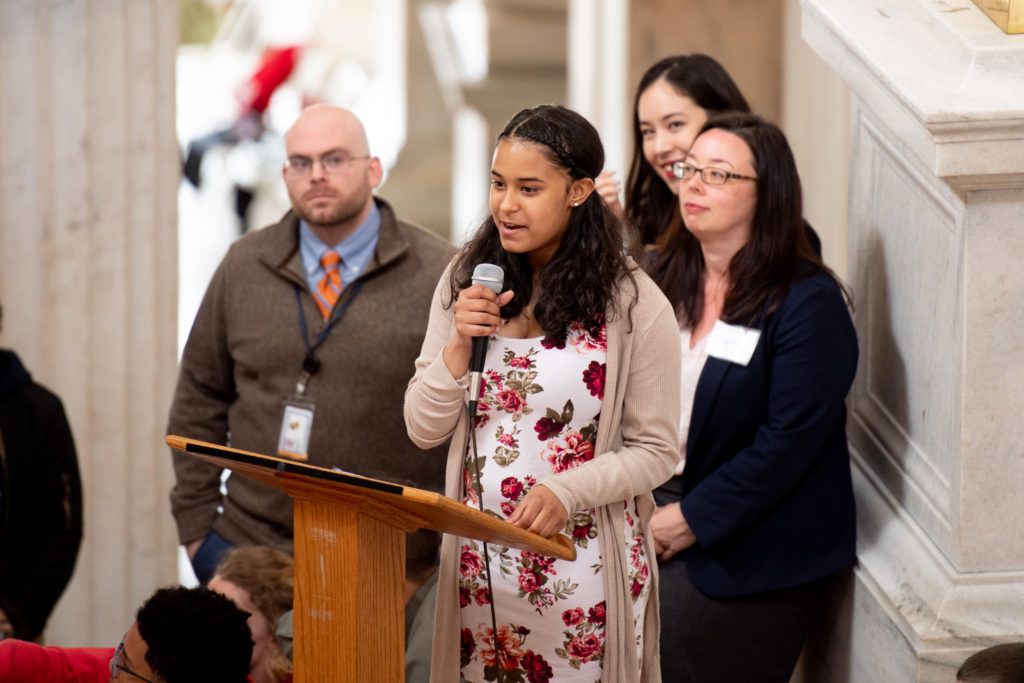 Jaliana Lovelace
Roger Williams Middle School
Providence, RI
Good Morning ladies and gentlemen my name is Jaliana Lovelace I am an 8th grade student at Roger Williams Middle School and I was born and raised in Providence Rhode Island. I just want to start off by saying I was so nervous but excited when I found out about this award. I'm still nervous now but I want to thank Mrs.Audette for helping me grow this year.
Our class's topic this semester was physical education equity. This issue was personal for me because I am currently receiving a failing grade in my gym class because I don't feel comfortable changing in the locker room. We believe that students shouldn't have to feel uncomfortable in a locker room. Students deserve a space that is both private and clean, and this is what we are fighting for.
Ever since I joined the GC class with Mrs.Audette, I now feel like she has helped me overcome my fear of speaking my mind due to my youth. On my first project involving GC, I felt so hands-on and inspired by the fact that I now have the chance to speak up in the classroom where my opinions can be heard. In my early middle school years, I didn't even know that I had the opportunity to be a change maker, but once I met Mrs.Audette I learned that it's always better to use your voice.
One thing I am really proud of in my GC class is the fact that I don't have to feel like I'm invisible. I can speak my mind, express my thoughts, and I can also help others in ways that I don't normally get to. The greatest lesson I learned during GC was to never give up even if it gets hard. Now I say this because in the beginning of the year I thought "Well yeah I am speaking up but why isn't change happening quicker?!" But now, I see the changes we have made as a class – the Principal is now helping our class to better the gym facilities for future students.
To me, GC isn't just a class I got placed in, it's a class that I grew in and a class that I became a part of. Sometimes I sit and think to myself that one day my career might involve helping young voices – like all of us sitting here today – continue to make changes to better our world. We may not be able to change the world today, but I do believe we can start now and get somewhere. I think that many more students around the world should get involved with the GC program because if there are more young voices being heard, then fewer students will feel like their voices do not matter.
I am going to try something new and different now!

Raise your hand if you feel that being apart of a GC class makes you feel more influential… Now raise your hand if you feel like you can be someone or do something big because you know you have the power to use your voice and speak up… This is all due to the great change maker himself Scott Warren who gave us the opportunity to be a part of something great. Thank you again, my name is Jaliana Lovelace and I am an 8th-grade student at Roger Williams Middle School.